Fall Kickoff Vendor/Craft Show
Sat, September 9 @ 9:00 am

-

3:00 pm
Oak Avenue Community Center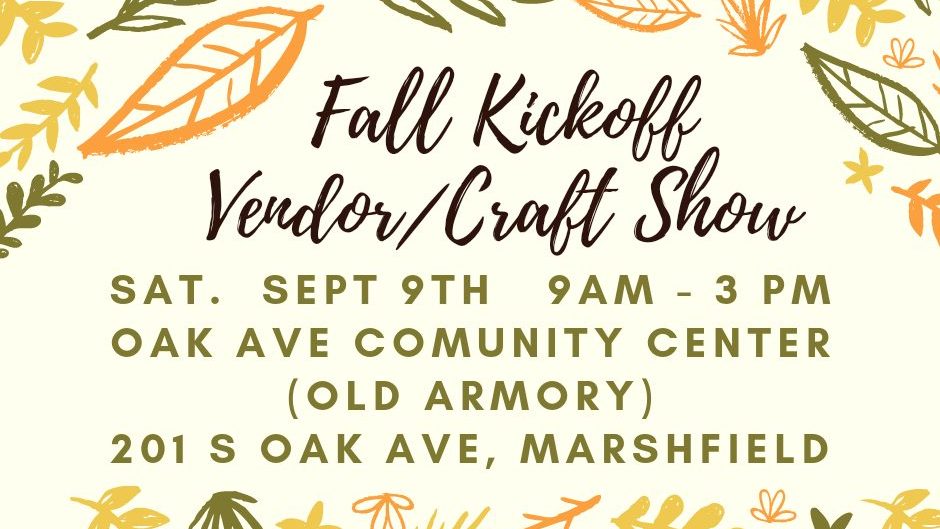 The Old Armory in Marshfield will be packed full of crafters and vendors waiting to show you their new fall creations! Lots of great options.
Plus food and prizes!
Sept 9
3rd Avenue – Amy Womack
Brewtiful Coffee – Melissa Meyers
Carol's Crafts – Carol Redclay
Color Street – Amanda Anderson
Complete Fashion – Gayle Laffe
Craft Creation Cave – Kelly Kulinski
Crafts by Jenny Zant
Crafty to a T – Tiffany Reynolds
Dirt Road Decor and More – Christine Jakobi
Epicure – Aimee Lynn
Faith Zarnke Crafts
Green Compass – Kimberly Hahm
Hello Love – Carla Kuehmichel
HH Creations – Maria Hartson
II Krafty – Krystal Plomedahl
James Ford Wood Creations
Jane Fuchs crafts
Jordan Essentials – Pam Meddaugh
Joyce's Custom Sewing/Blankets – Joyce Habeck
Kue's Kozy Krafts – Sherry Kue
Leaf Filter Gutter Protection
Lbri – Heather Wallace
MP Kollman
Norwex – Bell
Pampered Chef – Julie Traxler Vehr
Paparazzi – Laura Oleson Pichler
Renee's County Crafts – Renee Sternweis
Rose Daul Crafts
Scentsy – Rachael Haupt-Harrington
Tastefully Simple – Christy Shrader
Teri's Aprons – Teri Wagoner
Thirty-one – Amy Bell
Tupperware – Mag Skiba Hephner
Related Events
Looking for more events in central Wisconsin? See our full calendar of events for Marshfield, Wood County, and Marathon County here.