Dairyfest – June 4 Activities
Downtown Marshfield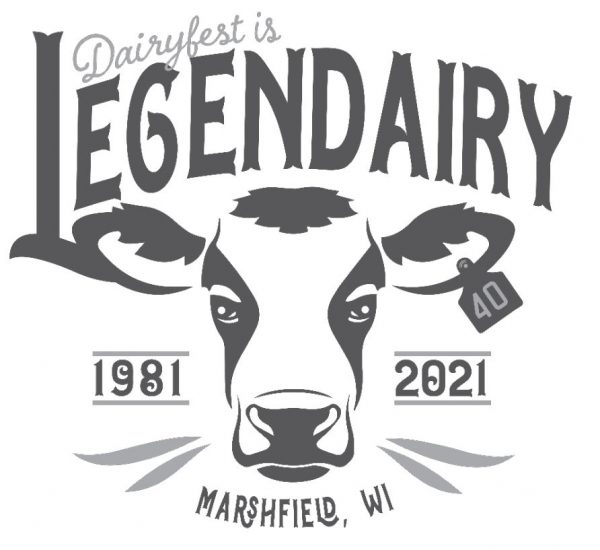 FRIDAY, JUNE 4 ACTIVITIES :
Friday, June 4: Dairyfest Drive-Thru Breakfast, from 5:30 – 9:30 am – at Central Wisconsin State Fairgrounds, Expo Building (513 E. 17th St., Marshfield)
Enter Central Wisconsin State Fairgrounds off 14th Street (from Peach St. or Central Ave.). Takeout options are also available along with limited socially-distanced indoor and outdoor seating.
Menu: Egg omelet with hashbrowns, applesauce, fresh cheese curds, assorted muffins, cranberries, banana, and coupon for ice cream. Milk and water will also be available. Sponsored in part by Festival Foods, Weber's Farm Store, Nasonville Dairy, Hewitt's Meats, and Burns Insurance.
Cost to attend is $7 per adult meal.
Save time and money by purchasing Pre-order tickets for "Express Lane" and "Indoor Seating" which are $6 per adult meal.
A limited edition thermal tote bag proudly sponsored by Nelson Jameson Inc., Dental Clinic of Marshfield, H&S Manufacturing, Forward Bank, and Dairy Farmers of Wisconsin will be distributed to the first 1000.
---
WIFC Wisconsin Dells Coupon Book Giveaway: 3:00 PM – 5:00 PM
Wenzel Family Plaza
Wisconsin Dells coupon books and Mount Olympus passes will be given away on a first come, first serve basis and while supplies last.
Sponsored by: Visit Marshfield
---
Food Truck Friday: Begins at 11:00 AM
Located in Wenzel Family Plaza (200 Block on Chestnut Ave., Marshfield)
The following Food Trucks are participating:
Baka Chicken
Barnyard Burgers
Cindy's Spuds
Glacetier's Ice Cream
Marshfield Lions Club
Mouse Ears
Razor J Concessions
Stone Press
---
Picnic in the Plaza: Begins at 5:00 PM
Located in Wenzel Family Plaza (200 Block on Chestnut Ave., Marshfield)
Enjoy a variety of food booths for dinner and be entertained by inflatable fun for children (masks are required when participating in the inflatables and children's games).
• Inflatable Fun For Kiddos! Starting at 5 p.m.
• Petting Zoo provided by Marshfield FFA. Sponsored by McMillan Warner Mutual Insurance
• Children's Games provided by Richfield 4-H.
• Educational Displays & Activities provided by McMillan Fire Department, Marshfield Fire Department, Make Music Together, Chestnut Center for the Arts, and Reis Martial Arts.
Bring your lawn chairs and enjoy performances by:
• Main Street Conservatory of Dance | 5:30 p.m.
• Reis Martial Arts Demonstrations | 6:30 p.m.
• Marshfield Civic Band Concert | 7:30 p.m.

---
Movie Under the Stars: Begins at Dusk | Wenzel Family Plaza
Bring your lawn chair, roll out a blanket, and sit back and enjoy an old fashioned, outdoor, family friendly movie UNDER THE STARS! The movie will be shown on the big inflatable screen, located in front of the stage. Movie made possible by Leadership Marshfield and our partners.
Movie showing: The Fox & The Hound (also celebrating it's 40th anniversary).
Sponsored by: Rembs Funeral Home & Crematory
---
USA Sanctioned Dairyfest Coed Softball Tournaments:
6:30 p.m. to 10:30 p.m. | Central Wisconsin State Fairgrounds
FREE ADMISSION
Concessions sponsored by: Marshfield Softball Association
Related Events
Looking for more events in central Wisconsin? See our full calendar of events for Marshfield, Wood County, and Marathon County here.