Discover winter fun in Central Wisconsin!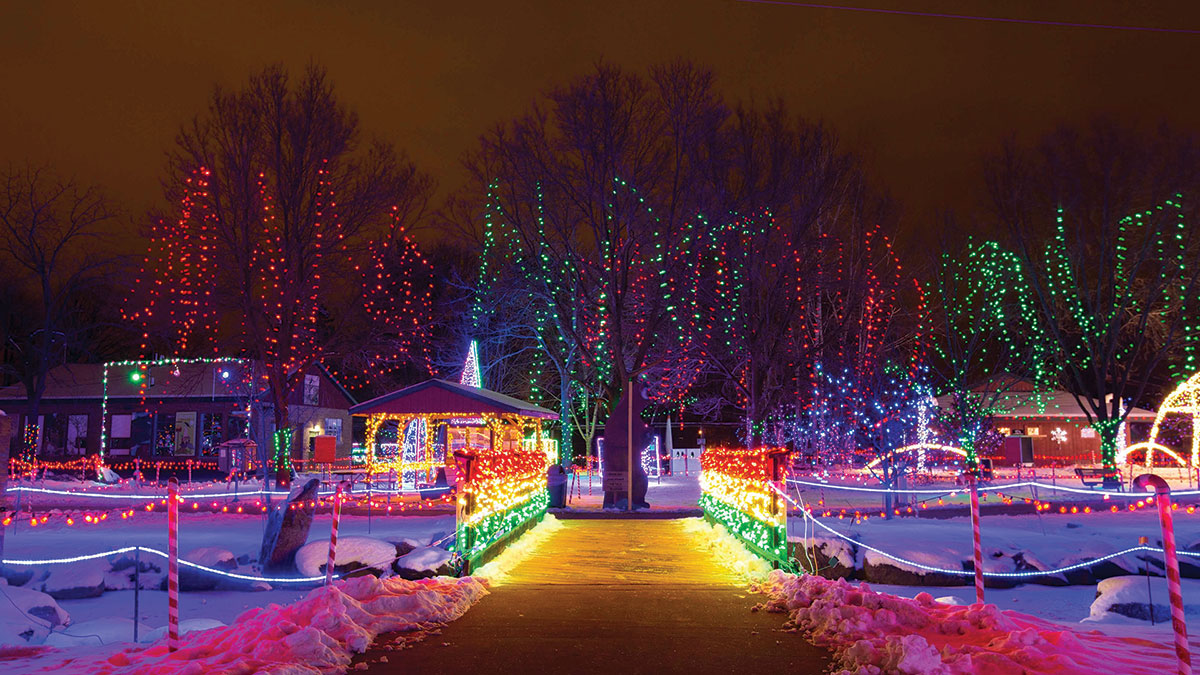 Get ready for festive fun in Marshfield when the snow flies—this central Wisconsin community is home to wonderful winter activities and attractions like the stunning light displays at Rotary Winter Wonderland—happening now through December 31.
Now we're giving you a chance to experience a winter getaway to Marshfield yourself!
Enter today, and you could win:
Step 1: Like us on Facebook
Step 2: Enter the Contest
Rules
Official Rules
NO PURCHASE NECESSARY TO ENTER OR WIN. A PURCHASE DOES NOT INCREASE YOUR CHANCE OF WINNING. THERE IS NO FEE TO ENTER THIS PROMOTION. WINNER WILL BE SELECTED IN A RANDOM DRAWING FROM AMONG ALL ELIGIBLE ENTRIES RECEIVED. VOID WHERE PROHIBITED BY LAW OR RESTRICTED IN A MANNER INCONSISTENT WITH THESE OFFICIAL RULES.
Enter online at www.visitmarshfield.com, click on the Promotion link and complete the online registration form.
Entrants are limited to one entry per IP address.
Entrants entering the Promotion may be asked to answer several optional questions, however, whether these questions are answered will not impact eligibility for entry in the Promotion. For additional copies of the Official Rules, please send a self-addressed stamped envelope (VT residents may omit return postage) to: "Visit Marshfield Winter Getaway Giveaway" Rules Request, 700 S. Central Ave., Marshfield, WI, 54449 (the "Promotion Address"). Requests must be received by December 31, 2020. Sponsor assumes no responsibility for any computer, software, online, Internet or technological malfunctions or for lost, late, stolen, incomplete, illegible, inaccurate, undelivered, delayed, mutilated, postage-due or misdirected mail, correspondence, requests, claims or other errors or problems in connection with or relating to the Promotion. If for any reason the Promotion is not capable of being conducted as contemplated in the Official Rules, including if due to computer virus, bugs, tampering or technical failures which compromise the administration or integrity of the Promotion, Sponsor, in its sole discretion, reserves the right to terminate or modify the Promotion.  All entries become the property of the Sponsor and none will be returned.  Sponsor and any Promotion judge(s) designated by Sponsor reserve the right to disqualify any entrant who tampers or attempts to tamper with the entry procedure or the Promotion or violates these Official Rules.  Sponsor's time clock is the official clock for this Promotion.
Prize package includes:
A $250 prepaid Visa card (Approximate Retail Value (ARV): $250)
A two-night stay Holiday Inn Marshfield (ARV: $150)
Total ARV = $400
One prize per person maximum in this Promotion. No transfer or substitution of prizes permitted except where required by law. If a prize becomes unavailable, Sponsor may award a substitute prize of equal or greater value. Odds of winning a prize depend upon the number of eligible entries received. Taxes on a prize and expenses related to acceptance, delivery and use of a prize, are the sole responsibility of the applicable Prize Winner.
Except if winner is a resident of TN, or where prohibited by law, by accepting prize, winner grants permission for Sponsor and those acting under its authority to use his/her name, photograph, voice and/or likeness, for advertising and/or publicity purposes, in any and all media now known or hereinafter invented without territorial or time limitations and without additional compensation.
BY PARTICIPATING IN THE PROMOTION, PARTICIPANTS AGREE TO RELEASE AND HOLD HARMLESS SPONSOR AND THE PROMOTION PARTIES AND FACEBOOK FROM AND AGAINST ANY CLAIM OR CAUSE OF ACTION ARISING OUT OF PARTICIPATION IN THE PROMOTION OR RECEIPT OR USE OF ANY PRIZE, INCLUDING PROPERTY DAMAGE, PERSONAL INJURY OR DEATH.  EACH PARTICIPANT FURTHER AGREES THAT IN ANY CAUSE OF ACTION, THE PROMOTION PARTIES' LIABILITY WILL BE LIMITED TO THE COST OF PARTICIPATING IN THE PROMOTION, AND IN NO EVENT SHALL SPONSOR, THE PROMOTION PARTIES OR FACEBOOK BE LIABLE FOR ATTORNEYS' FEES, PUNITIVE, CONSEQUENTIAL, DIRECT OR INDIRECT DAMAGES AND EACH PARTICIPANT WAIVES THE RIGHT TO CLAIM ANY DAMAGES WHATSOEVER.
© Visit Marshfield. All Rights Reserved.
Privacy
PRIVACY POLICY
Visit Marshfield Privacy Statement
Visit Marshfield • 700 S. Central Ave., Marshfield, WI 54449
[email protected] • www.visitmarshfield.com
For each visitor to our Web page, our Web server automatically recognizes only the consumer's domain name. We collect the e-mail addresses of those who communicate with us via e-mail; aggregate information on what pages consumers access or visit; and gather information volunteered by the consumer, such as survey information and/or site registrations.
The information we collect is used to improve the content of our Web page and is shared with other reputable organizations to help them contact consumers for marketing purposes. It is not sold to any third party.
If you do not want information from Visit Marshfield via e-mail, mail or any other source, please let us know by sending us an e-mail at [email protected]. Customers may prevent their information from being used for purposes other than those for which it was originally collected by emailing us at [email protected]. We do not partner with or have special relationships with any ad server companies.
From time to time, we may use customer information for new, unanticipated uses not previously disclosed in our privacy notice. If our information practices change at some time in the future we will post the policy changes to our Web site to notify you of these changes and provide you with the ability to opt out of these new uses. If you are concerned about how your information is used, you should check back at our Web site periodically.
Whenever Visit Marshfield handles information that you enter on its site, regardless of where this occurs, we take steps to ensure that your information is treated securely and in accordance with the Terms and Conditions of Use and this Privacy Policy. Unfortunately, no data transmissions over the Internet can be guaranteed to be completely secure. As a result, while striving to protect your personal information, Visit Marshfield cannot ensure or warrant the security of any information you transmit to us and you do so at your own risk. Once we receive your transmission, we make reasonable efforts to ensure its security on our systems.
If you feel that this site is not following its stated information policy, you may contact us at [email protected].
Visit Marshfield Privacy Statement for E-mail Subscriptions
Visit Marshfield respects the privacy of every individual who visits our Web sites or responds to our online advertisements or e-mail campaigns. This Privacy Policy outlines the type of information we typically collect from our Web sites, online advertisements at other Web sites and e-mail campaigns, and how we may use that information. This Policy will also instruct you on what to do if you do not want to share personal information with us. Visit Marshfield may occasionally update this Privacy Policy in response to changing business circumstances and legal developments. Any changes will be posted to this page. This Policy was last modified June 11, 2020. Visit Marshfield encourages you to periodically review this Policy to be informed of how we are protecting your information.
Your Provision of Personal Information is Voluntary:
At our web site, www.visitmarshfield.com, and via Visit Marshfield online advertising at other Web sites, we may ask you for information such as your name, address, telephone number, date of birth and/or your e-mail address. Your agreement to and provision of such personal information is completely voluntary.
When you do provide us with personal information, unless you are advised otherwise, we may use that information to improve our services or programs or to contact you. If you do not want information collected from our Web sites, please do not agree to the collection of information nor submit any information to us. If you have already submitted personal information and would like us to remove it from our records, please follow the procedures listed in this Policy.
Some Non-Personal Information Is Collected Automatically:
We may automatically collect certain non-personal information when you connect to one of our web sites. Examples of this type of information include the type of Internet browser used, the type of computer operating system used, the connection speed used and the domain name from the Web site from which you linked to our site or advertisement.
When you view one of our Web sites, we may store some information on your computer. This information will be in the form of a "cookie" or similar file and may be used by us to collect other information during your visit to our Web sites, such as the particular site areas you visit and the activities in which you participate at our Web sites. The use of cookies is an industry standard and you will find them at most Web sites. Please note that with most Internet browsers, you can erase cookies from your computer hard drive, block all cookies, or receive a warning before a cookie is stored. You should refer to your browser instructions or help screen to learn more about these functions.
We may collect anonymous usage statistics using Google Analytics and Google's Demographics and Interests Reporting Display Advertiser Features which help us better understand who our users are. You can opt out of these services using your ad settings on browsers, mobile apps and devices, or by visiting this page to opt out.
How to Request Removal from Communication Listing:
If you have submitted personal information and opted in to receive communications from us but would now like to be excluded from these communications, it's easy to unsubscribe. Please note that removing you from our communications may take up to five business days, so you may receive additional messages for a short period.
We are pleased that you have chosen to visit our site. Further questions? E-mail us at [email protected].